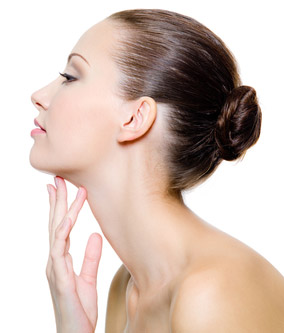 The dewlap liposuction is the surgical procedure in which the adipose or fat tissue of the neck above the muscles is suck up, giving the neck the proper form and improving the line of the neck with the jaw.
This procedure is indicated in patients with accretion of adipose tissue in the neck (dewlap), at any moment after the patient is eighteen years old.
The dewlap liposuction is preformed through two little incisions of 3 mm, underneath the ears' lobes, or as a complement of the Rhytidectomy (face lifting) or Cervicoplasty (neck lifting) through the incisions from those surgeries.
This procedure last about half an hour. Usually is done under local anesthesia, or general is if accompanied by other lifting procedures. Its ambulatory.
On the postoperative mild pain, swelling and ecchymosis (bruises) will appear, all of these will last about form two weeks.
Within the adverse eventualities we can find infections, free fat fluids, distress from the skin, internal scars fibrosis, bleeding, bruises, excess sagging skin partial and temporary paralysis in the inferior lip. The anesthetics and surgical risks are similar to those of any other surgical procedure.
In the recovery, the patient must use foam, cotton and lycra bandages in the neck; as well as analgesics and antibiotics, postoperative therapy with massages for the lymphatic drains and an ultrasound for fibrosis, for two weeks; also the patient must use moisturizing and nourishing creams and sun screen, the patient must attend the medical controls as scheduled. The medical leave of absence will depend of the surgery and the job that the patient performs, given the swelling and the bruises, but it can go from three to ten days.
Gallery Dewlap Liposuction