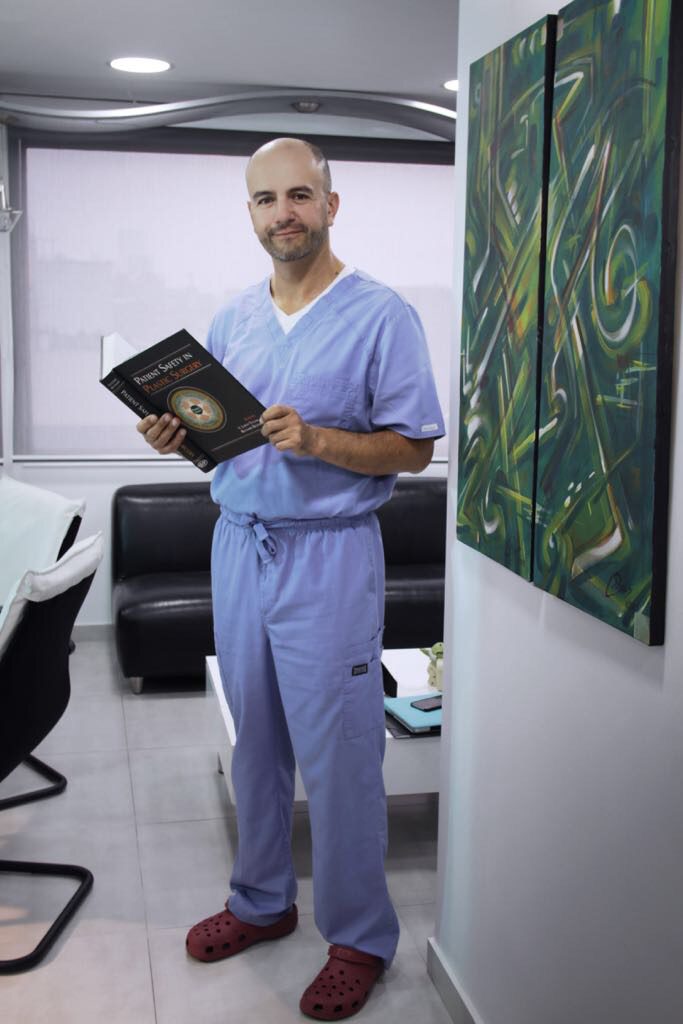 MD. Fabian Cuevas, surgeon from the University Colegio Mayor de Nuestra Señora del Rosario, Bogota City. He is specialized in Plastic, Aesthetics, Maxillofacial and Hand Surgery from El Bosque University, Bogota – Colombia.
Currently he works as a Plastic Surgeon and Chief of Plastics Surgery at Marly Clinic, one of the largest, prestigious and oldest clinics, not only in the city, but in the country, he also has his Private Practice at these facilities. The Doctor is also part of the Plastic Surgeons team of Marly Clinic Jorge Cavelier Gaviria, and is an appointed Surgeon to Colsanitas, Medisanitas, Allianz, Suramericana, Mapfre and Panamerican Life.
He is an active member of several National and International Scientific and Academic Societies, such as:
Dr. Cuevas, with his experience and education as a Plastic Surgeon since 2001, has attended thousands of patients, in whom he has preformed all kind of procedures in Aesthetics, Reconstructive, Maxillofacial and Hand Surgeries. He has the proper instruction updated yearly by the Continuant Medical Education in Congresses, Symposiums and Courses, not just national, but international, as well.
To Dr. Fabian Cuevas the most important thing is the exercise of his profession within the higher standards of ethics. This is why in his Private Practice, you will find total dedication and complete attention to details, as well as attention to the patients needs, informing and guiding all there is to know about the therapeutic possibilities, technical, risks, cares and expenses, without offering not requested procedures; including declining to perform not indicated procedures. All of this is very important in the practice of Plastic Surgery, given that of it will depend the best results and satisfaction of the patients.
The surgical procedures are all preformed in highly technical, scientific and technological facilities, speaking in terms of infrastructure and personnel. These institutions have all the needed resources to tend an unwanted situation. These facilities are: Marly Clinic, Shaio Clinic, and Mediport.
"Aesthetics Surgery, as a branch of Plastic Surgery, is an artistic medical science that seeks to shape, improve and embellish the human body. Is performed by a Plastic Surgeon, that above all, is a doctor, creating physical and mental health for the patients that are treated with it, building self-esteem and improving the social, work, sexual and personal performance of the patients" ¡Plastic Surgery is not vanity!
When you are interested in a Plastic Surgery procedure you must verify that your surgeon is certified and graduated from one of the Plastic Surgery Academies of the country or the world; if he/she practices in Colombia, ideally, he/she must be a member of the Colombian Plastic Surgery Society. The institutional bond of the Plastic Surgery, the clinic where he does his procedures, the experience, the knowledge, values as honesty, responsibility, respect, seriousness, ethics; the recognitions in the medical society and among his patients are very important at the time of picking a surgeon.
The Program Safe Patient, it was coordinate by Dr. Cuevas within the Colombian Plastic Surgery Society, seeks to decrees the human error in risks practices, medicine; following proper managing protocols, with checklists and a good multidisciplinary teamwork, leaded by a Plastic Surgeon. ¡Do not take unnecessary risks and always go to a Plastic Surgeon!  
"The Plastics Surgeons must not generate inexistence needs in their patients, but if those needs are present they must advice them, guide them and help them to solve them". 
"Harmony, youth and beauty, contribute to the Physical and Emotional Health" 
"The art of Plastic Surgery is not in cutting, is in knowing when, where, how and whom operate"
"The Plastic Surgeon scalpel is like the brush of an artist".